WDW Day 6: Magic Kingdom and a New Hotel
December 22, 2013
On this sunny Wednesday morning, we packed up and said goodbye to our beloved Polynesian, as we were moving over to the Contemporary. It was the first time we tried doing a split stay; we'd always wanted to try the Contemporary, but weren't sure enough that we'd like it to commit a whole long trip to it. So we packed up our bags and left them with the valet to transfer for us before walking through the resort to say goodbye to the tikis and torches.
Our original plan had us going to Animal Kingdom this particular morning, but that was not really realistic what with how much we like to sleep in and having to pack and such, so after leaving the Poly we went right to the Magic Kingdom. We experienced Enchanted Tales with Belle for the first time; Mr. Karen even got to be in the show and had his photo taken with Belle afterwards. His Mickey balloon was not allowed to go see Belle; seems that WDW has tightened up their balloon policy since we were last there and balloons are pretty much limited to being tied up to strollers and railings while their owners have fun. Back in the day, we could ride things like Splash Mountain with a balloon. My guess is some inattentive/stupid guests ruined it for the rest of us.
After taking in a few more attractions, seeing a flood near Big Thunder Mountain, and having lunch, we made our way to the Contemporary to check in, where we found we'd been assigned a room on the 11th floor which gave us a nice view of Bay Lake and, if we went out on the balcony, Spaceship Earth at Epcot and the Swan and Dolphin hotels.
Then it was back to Magic Kingdom and back to Be Our Guest, which is table service at dinner, so I wanted to see what that was about and again, thanks to tips from online Disney-loving friends, I was lucky enough to score a reservation. One really different thing about it is that alcohol is served at dinner—a Magic Kingdom first. Of course, it's crazy expensive, so I don't think anyone's gonna be getting drunk and stumbling onto Small World.
After dinner, we made our way to Main Street to see the Electrical Parade (yes, again) then found a place near the Hub to watch the castle show and fireworks. During the fireworks, a woman near us had a medical emergency, and I was very impressed with the response from Disney. Multiple cast members were on the scene very quickly, and they did a great job getting the paramedics in through the crowd during the fireworks, dealt with a second woman fainting, and managed to protect the scene during the mass exodus after the show. I hope never to need medical attention while at Disney but it's good to know I would be taken care of quickly if need be.
We finished the night watching the Electrical Water Pageant from our balcony at the Contemporary; we've never been able to do that from the Poly (though if we'd pony up for the really expensive rooms there, I suppose we could).
*****
On this date in 2012: Sock Monkey Summit
2011: Not Yet Socks
2010: Reversible Watch Cap
2009: In the Belly of the Beast
2008: Brain Clutter
2007: UFOs
2006: Tech Cat & Accretion is for Losers
2005: Spirit of the Season
2004: I've Been Working on the SQL
2003: Not a Weekly Check-In
2002: Planning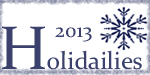 ---