In Which My Brain is Fried
December 5, 2013
Part of the Holidailies tradition as I manifest it here on my online journal is me writing at least one entry about being stressed and/or bummed and/or unmotivated, from 2002's Humbug to 2012's Cranky. I've written similar entries in non-Holidailies months, too, but not nearly so regularly, since without the spur of this collaborative project, there's not a compelling reason for me to take time out from my stress or push through my doldrums in order to put some words on the screen.
This year, I am writing that entry today. I don't usually reach this point this early in the month, but this particular early December finds my whole department moving to a new office pretty much at the same time as we're doing some major system changes, all of that conflicting with personal plans I made six months ago. I am not doing well at balancing all these things. I hate that I am not doing well. Rather than me ranting about that some more, let's instead gaze upon this peaceful scene I snapped out a plane window this past summer.
I think if I'd remember to stop and breathe and let my mind rest for a minute more often, I'd feel better and maybe even get more done. Maybe there's an app for that.
*****
On this date in 2012: Private Leander W.
2009 through 2011: No entry
2008: It's Holidailies Time
2007: No entry
2006: I Used to Crochet
2005: Winter Count – January
2004: No entry
2003: Quilt List
2002: Forgotten Tradition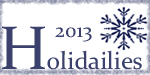 ---