I Kinda Remember Having Goals
December 2, 2017
At the beginning of 2017, I set some goals for myself. I revised them mid-year, then did a check-in for July, saying then that I was going to do what I could in August due to travel then reassess in early September. Ha. And also ha. But there's one more month left of 2017 in which I can get some stuff done, so it's time to set some monthly milestones related to my annual goals.
1. I will participate in the photo a day and photo a week projects I signed up for on Flickr.
As of last night, I was a month behind in posting in the daily group, though I have taken the photos, and three weeks behind in the weekly one, for which I'm not sure I have photos suitable for two of those themes. By the end of the month, I'm going to catch up with my posting and actually shoot photos specifically for the remaining weekly themes.
2. I will read 52 books (up from 35 in 2016).
This one at least I have under control. I just need to finish four more books this month, which is reasonable.
3. I will complete at least 52 action items to resist the hate and poison unleashed by the Trump electoral college victory.
I am so discouraged at the moment, I'm not sure what to do here. My senators are both Republicans who never break with their party and seem to have no interest in listening to constituents who hold differing views. My congressperson is also a party line Republican who embraces Trump and doesn't appear to care about anything but running for governor of Idaho. The two Indivisible groups closest to me are dominated by Bernie supporters who seem to love a good purity test and enjoy rehashing the 2016 election. It's depressing. So I'll wallow for a bit, do some self-care, and make some donations to organizations who are fighting the good fight.
4. I will publish at least 10 posts a month (average) on my nail blog.
I'm not going to make this one for the year, but I can commit to doing at least 8 posts there in December.
5. I will get some exercise at least 5 days a week.
This I can do in December. Skiing is happening for sure, and snowshoeing might on days we decide to not ski.
6. I will log my food at least 3 days a week.
Meh. I am not at all motivated to do this. At least there are fewer holiday food temptations than there were when I was working. I'm just going to punt this for now and look at the issue again when I do goals for 2018.
7. I will complete at least one organizing/unpacking task each week.
This I really need to do, so I will. The trick will be keeping track. For this week, I'll start with unpacking and putting away that last bag from our long road trip.
8. I will try one new recipe each month. Doesn't have to be for the Instant Pot, but probably will be.
I've been doing fairly well with this goal this year. I think I have it in me to do one more new recipe this month.
9. I will post at least three journal entries a month (not on average, but three minimum each month) here.
I am so going to knock this out of the park this month thanks to Holidailies.
*****
On this date in 2016:
Pre-Trip Trip
2015:
Octoberfest
2014:
Music, Family, and a Furry Kitten
2013:
Thanksgiving Recap
2012:
Me, My Stuff, and I
2007 to 2011: No entries
2006:
Surprise
2004 & 2005: No entries
2003:
Boomer? Moi?
2002:
Goal Check-In #5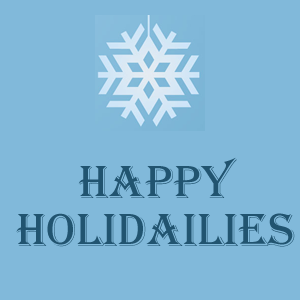 ---
One Comment