Driving, Driving, Driving
December 3, 2016
As of the end of the previous installment of this trip report, Mr. Karen and I set out on our own journeys from Spokane, Washington, he heading home and me heading east toward Michigan. I stopped the first night in Montana because that's pretty much unavoidable when going from the Inland Northwest to the Great Lakes, unless you don't need to sleep or else get a crazy early start the first day, which I have never ever done to date.
The next day I drove through more of Montana and a corner of Wyoming, including a stop at scenic overlook I've been to before but not at this time of year, with the splashes of fall colors.

I got to Oacoma, South Dakota, that second night. The next morning I stopped by the faux bison in town before I hit the road again.

Later that day in Mitchell, South Dakota, I happened upon an even more faux creature, the legendary jackalope.

Rolling on through Minnesota, I stopped in Austin, where I'd had a good dinner at a little burger place on an earlier trip. I found the park behind the restaurant flooded, the river spilling way over its banks.

I just kept driving, on through Wisconsin and Illinois until I finally got to Hobart, Indiana, which I deemed close enough to Michigan that I could make the nail polish group get together the next day that I was determined to get to, especially since I'd had to miss the big nail polish convention the weekend before.
Once I actually got to Michigan, I didn't take very many photos. I did enjoy seeing friends and visiting places I used to go, including driving by our old house to see what work the new owner had done to the yard and outside appearance (I did not go so far as to get out of the car and try to peek in the windows; that would be creepy). After what felt like way too short a time—I only got to spend time with a fraction of the people I wanted to see—I headed to Illinois. Tune in tomorrow for my report on that segment of the trip.
*****
On this date in 2015: Achievement Unlocked
2014: To Everything There Is a Season
2013: Creepier Than Elf on a Shelf
2012: Getting Better
2007 through 2011: No entries
2006: Eye Candy is Better Than No Candy at All
2005: No entry
2004: Catching Up, Again
2003: Bad Logo on the Rise
2002: Winter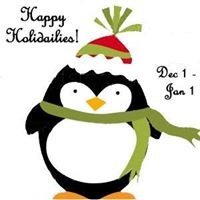 ---