February 10, 2008
I'm back from a week at Steamboat. Unlike our last ski trip, this time Mr. Karen and I and all of our luggage arrived in Detroit together as planned. As an unwelcome bonus, I also brought back a head cold, but fortunately those symptoms just started yesterday so I wasn't slowed down by it on the slopes. All in all, we had an excellent week. We stayed with our friends Bo and Gretchen, who are now retired and get to spend as much of the ski season as they want in their condo near the mountain.
Our trip started a week ago Saturday, when we flew to Hayden, Colorado via Denver. Our connection was really tight, and I was worried we weren't going to make it, especially when we got into Denver a bit later than scheduled. As it turned out, we needn't have run to the gate, as our next flight was delayed. Even after it boarded, they held the plane for passengers arriving late. Nice of them. Too bad they couldn't have extended us the same courtesy in Bozeman last month. We would have only needed five minutes, way less than we sat waiting for the stragglers for Hayden. Okay, I've got to let go of that.
I'd never flown into Hayden before and was surprised to find that we deplaned from the 737 via a stair car, just like on Arrested Development. I've gotten off regional jets onto the tarmac before, but never a plane as big as a 737. I was also surprised to find that the skis were unloaded not into baggage claim but outside on the sidewalk in front of the terminal. I guess that does make for less congestion inside but it sure seemed convenient for ski thieves. Maybe I've gotten too suspicious living near big cities all my life.
Sunday we took our time getting acclimated and only skied a half day. The guy at the ticket booth seemed almost to be trying to talk me out of it, as the winds were gusting up to 45 mph at the summit and the gondola was closed, but I was not dissauded. We rode the new six-pack Christie lift up from the base and the line management left a lot to be desired. Our group of four ended up getting split up because group of two plus a single tried to squeeze in with us–that made seven and that wasn't going to work. There was a liftie trying to get people into sixes, but she was stationed about five feet from the chair, which was rather too late to be helpful. No matter, we avoided that chair the rest of the day and had a great afternoon.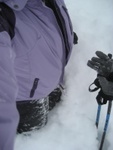 It snowed overnight and Monday was an awesome day, just about perfect. I was having so much fun swooping through the powder on my fat skis (though they're not that wide by today's standards) that I didn't stop for lunch. I was in snow past my knees in some spots in the trees. Tuesday was almost as good, though since the sun came out for a while that brought out more people and it got a bit crowded. Wednesday was grey and snowy and the skiing was pretty good. Thursday we decided to take the day off and walk up to the slopeside shops and take in the ambience before they all get bulldozed as part of the Steamboat Unbridled development plan. We got to meet the dog who hangs out at Knitch, the yarn shop on the mountain, and had tasty Thai at Jade Summit before walking back to the condo.
On Friday conditions were not that great relative to the rest of the week; the wind had turned most of the Champagne Powder into "sham-pain", as I heard some locals refer to it. I'd get in a couple of great turns then THUNK, I'd hit some heavy, crusty stuff. I did get to make use of my powder cords that day, when one of my tips sunk in the crud and popped off, sending me tumbling downhill a bit. After I flailed my way upright again and looked uphill for my missing ski, all I could see was the fluorescent pink ribbon trailing across the snow. I just followed it and dug instead of having to guess where to look. Despite the challenging snow and the big crowds (brought out I guess by it being Friday and the snow report that said 10 inches, when really only three were fresh overnight), I had a pretty good day. I didn't feel as sad to be done with my vacation as I would have if the snow had been as great as earlier in the week.
Yesterday, we weren't going to risk a repeat of the Bozeman experience, so we got to the tiny airport a bit more than two hours before our flight. We had plenty of time to get checked in and clear security, including a wanding and patdown for me. Note to self: save the black bra with the metal clasps for non-travel days.
(All the pictures are here.)