Another Ride on the Holidailies Train
December 1, 2016
Welcome, welcome to my 15th year of participation in Holidailies. I expect many of those of you who found your way here today already know me, as there's a core group of bloggers and journalers who show up for Holidailies every year, but there may a be a few new folks stopping by and that's great. My About Me page, updated last December and tweaked a few days ago, is still pretty accurate.
Last year at this time, I noted that it had been my least active year of online journaling since I started in 2002. This year was even worse than that. As it seems to have been for a lot of my friends, 2016 has been punctuated by tough stuff: totaling my car in May, my mom dying in July, the election results in November. Add to that still being in transition to retired life (we sold our old house in Michigan in March and moved the last of our possessions out of storage there in July), and journaling has taken a back seat, along with a lot of other things.
It's not all gloom, though. Living on a mountain feeds my heart in way that the suburbs never did. Whenever I get cranky about having to drive an hour plus to the nearest Walgreens, I remind myself that Mr. Karen and I used to save up vacation to come visit this place where we now live. I have hiking trails just down the street. My walk to and from the mailbox includes fabulous views. Tomorrow the lifts open, and I'll be a ten-minute stroll from skiing 2900 uncrowded acres (well, they won't all be open tomorrow, but you get the idea).
I'm not entirely sure how I'll manage a month of daily entries when I haven't done that since last December, but I did do it last December, so it is possible. I know I'll start with some catching up: I took the longest trip of my life this fall (measured in days away from home) and haven't written about any of it here, so that'll start off this Holidailies journey, starting tomorrow. Happy Holidailies, folks!
*****
On this date in 2015:
Not Dead Yet
2014:
Lucky 13
2013:
And So It Begins
2012:
Holidailies Time
2011: No entry
2010: No entry
2009: No entry
2008:
Turkey Day Weekend
2007:
Pinwheel Blanket
2006:
Somethin' New
2005: No entry
2004: No entry
2003:
Goal Check-In: Month 8
2002:
Holiday Weekend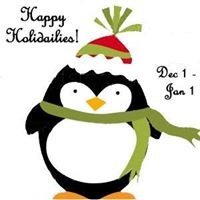 ---