WDW Day 3: Animal Kingdom
December 19, 2013
On this particular morning, the last day of Reunion, we had to get up earlier than we like to on vacation in order to get to the breakfast and podcast taping event that kicked off the day's festivities. I kicked off my day making another donut bandage out of Moleskin for my blister, which had doubled in size the day before even though I was wearing shoes and socks I trusted. Bah.
One of the reasons we like the Polynesian is the good transportation options, but good as they are, they're not ideal for getting to another hotel for an 8 a.m. breakfast, so we cabbed it over to the Boardwalk, where we hung out with fellow Reunion attendees until we were let into the ESPN Club for a breakfast buffet and podcast taping. While we were eating, Mickey Mouse made a special appearance in his football gear. I proudly posed with him in my Michigan State tee; the Spartans had won the Big 10 Football Championship the night before, so my basketball championship tee from 2000 sort of fit that theme. After breakfast and Mickey, it was time for the raffle draw (with the tickets from the day before's scavenger hunt); I didn't win. Then the podcasters took the stage behind their microphones. I'd never been to a podcast taping before, though I have been to public radio show tapings (are they still called tapings when it's all digital? probably not) and this was similar. A special treat was getting to hear the full theme song live, performed by the guy who wrote it (and his fiancée); I've had that track on my iPod for ages.
After the podcast taping (sorry, recording) wrapped up, we were off to Animal Kingdom, where the first event was playing the carnival games in Dinoland, something we have never done before though we've done most other things in the park multiple times. The fact that the podcast was paying made it very easy to decide to try it this time. I did the dino racing game and lost; Mr. Karen did the whack a dino and won a big pink and blue plush chameleon (another guest won an orange and red one later, which I think he would have rather had but it was free so that's the breaks) . The Reunion group filled up every game we tried; I got the idea that the cast members running those games hadn't dealt with that much traffic in quite a while. When we ran out of game tickets, a spontaneous "let's go ride Dinosaur" meet was announced, and many us of marched over there (at least doubling the length of stand by line in the process), only to have the ride go down before any of us got into the preshow. Ah well, it was almost time for the last meet anyway, lunch at one of the quick service places in the park. This was a bit disorganized, with no central gathering spot for everyone to sit and eat, and if there was any sort of closing ceremony, I sure didn't see it. People just gathered in small groups to eat and sort of drifted off afterward.
We drifted off to see the animals and ride some rides. The siamangs were particularly entertaining; talking with a cast member stationed nearby we learned that it was a dad and his twin daughters (I found this blog post about them after we got back). Near the end of the day, we were able to get a table at one of the table service restaurants (that's often a problem in these days of the Disney Dining Plan), so we had dinner. We had originally thought we'd hop to the Studios after Animal Kingdom closed, as the Studios park was open late that night, but our early start to the day had us dragging a bit so we instead went back to the hotel and watched the Electrical Water Pageant and Magic Kingdom fireworks from the beach. It was a nice relaxing end to the day.
*****
On this date in 2012: Lace Panel Scarf
2011: The Secret
2010: No entry
2009: Life of the Party
2008: Manual Labor
2007: Livin' the Dream & Animal, Vegetable, or Mineral?
2006: Holididn't
2005: I'm Back
2004: Step Out of Your Vehicle & I Was Ready for Some Football
2003: Outta Here
2002: Wishing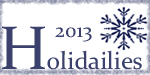 ---